Yizumi-HPM Corporation; A Manufacturer of high quality injection molding machinery from 65 to 3500 tons, and hot and cold chamber die casting machinery from 200 to 3500 tons. HPM has been supplying injection molding machinery and support services to the plastic industry since 1931, and has thousands of Injection Molding and Die Casting Machines in operation throughout North America.HPM Company was incorporated in 1877 as the Hydraulic Press Manufacturing Company in Mount Gile ad, Ohio, with the purpose to design and build hydraulic presses for the extraction of apple cider.
Through the sales efforts of its founders, the company marketed its products to most fruit-growing areas in the United States and Canada, gaining credibility primarily through word-of-mouth advertising.HPM started to manufacture hydraulic presses that were used in a number of markets, including textiles, railroads, and food processing.
In March of 2011, YIZUMI Precision Machinery Co., Ltd, located in China, acquired all HPM intellectual properties. Shortly after the purchase, HPM North America Corporation was set up in Marion, Ohio. In 2017 HPM North Americ a changed its name to Yizumi-HPM Corporation to be representative of the formidable international company that we are a part of today.
Yizumi-HPM Corporation sells and manufactures injection molding machines and die casting machines based upon the HPM designs but utilizing the engineering, manufacturing and financial strengths of YIZUMI. It is not only the service and technical center of YIZUMI in North America; it's also a very important step of the globalization strategy of the company. With further global operation of HPM and YIZUMI brands, we can provide our customers worldwide with our best products and services.
The most Attractive and Affordable Performance Price Ratios. Trade-In's Available.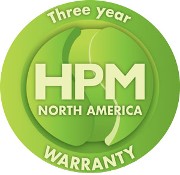 You can Visit the Yizumi HPM Website here.